We invite you to mark the U.S. atomic bombings of Hiroshima and Nagasaki with Tri-Valley CAREs and other peace and justice groups that are part of the Livermore Conversion Project. The link is https://enlightenedfilms.com/august-rally/
Our theme this year is "Making the Unthinkable Impossible: Abolish Nuclear Weapons!" For the third time, due to the COVID-19 pandemic, this year's Livermore rally will be virtual. The rally will be broadcast Saturday, August 6, and Tuesday, August 9, from 9:00 am – 10:30 am pacific time. It will also be archived and viewable on the link at any time after the broadcast.
Again, the link is https://enlightenedfilms.com/august-rally/
And we have a few updates on speakers and musicians for you, along with an updated flyer.
The program will feature Pentagon planner and whistleblower Daniel Ellsberg, Nagasaki A-bomb survivor Nobuaki Hanaoka, Russian peace and democracy activist Oleg Bodrov (in Russia), international anti-nuclear power activist, Marie Inoue, Bay Area climate activists Sara Shor and Tova Fuller, and our very own Livermore Lab watchdog Marylia Kelley.
There will be a welcome by anti-apartheid and nuclear free zone activist Wilson Riles, Jr. The land blessing will be offered by Patricia St. Onge of the Six Nations/Haudenosaune and Quebecois Our emcee will be Andrew Kodama from the Mt. Diablo Peace and Justice Center. Music will be provided by Emma's Revolution and Benjamin Mertz.
Join us!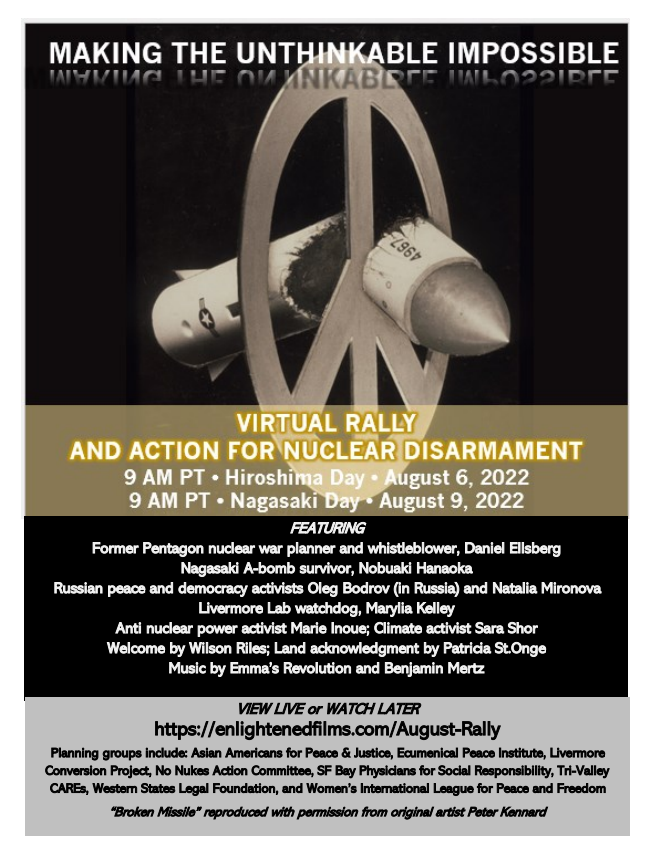 To download the PDF file, CLICK HERE!