Livermore Lab is one of two locations that has designed every nuclear weapon in the U.S. arsenal. It was Livermore Lab where the Bush Administration's "Robust Nuclear Earth Penetrator" bomb was being developed before public outcry and Congress stopped it.
Then, in 2007, Livermore Lab was chosen to develop the first in a series of new U.S. nuclear weapons, under the so-called "Reliable Replacement Warhead" program. About 85% of all U.S. Department of Energy funding at Livermore Lab is for nuclear weapons activities.
Tri-Valley CAREs works to end all further nuclear weapons development, testing and production as an important step toward their global elimination. We believe that nuclear weapons decrease human security and pose one of the great social, economic and ecological challenges of our time. Our efforts have resulted in the cancellation of some weapons systems, but there is much yet to be done.
Pie Charts of Requested Budgets at The National Labs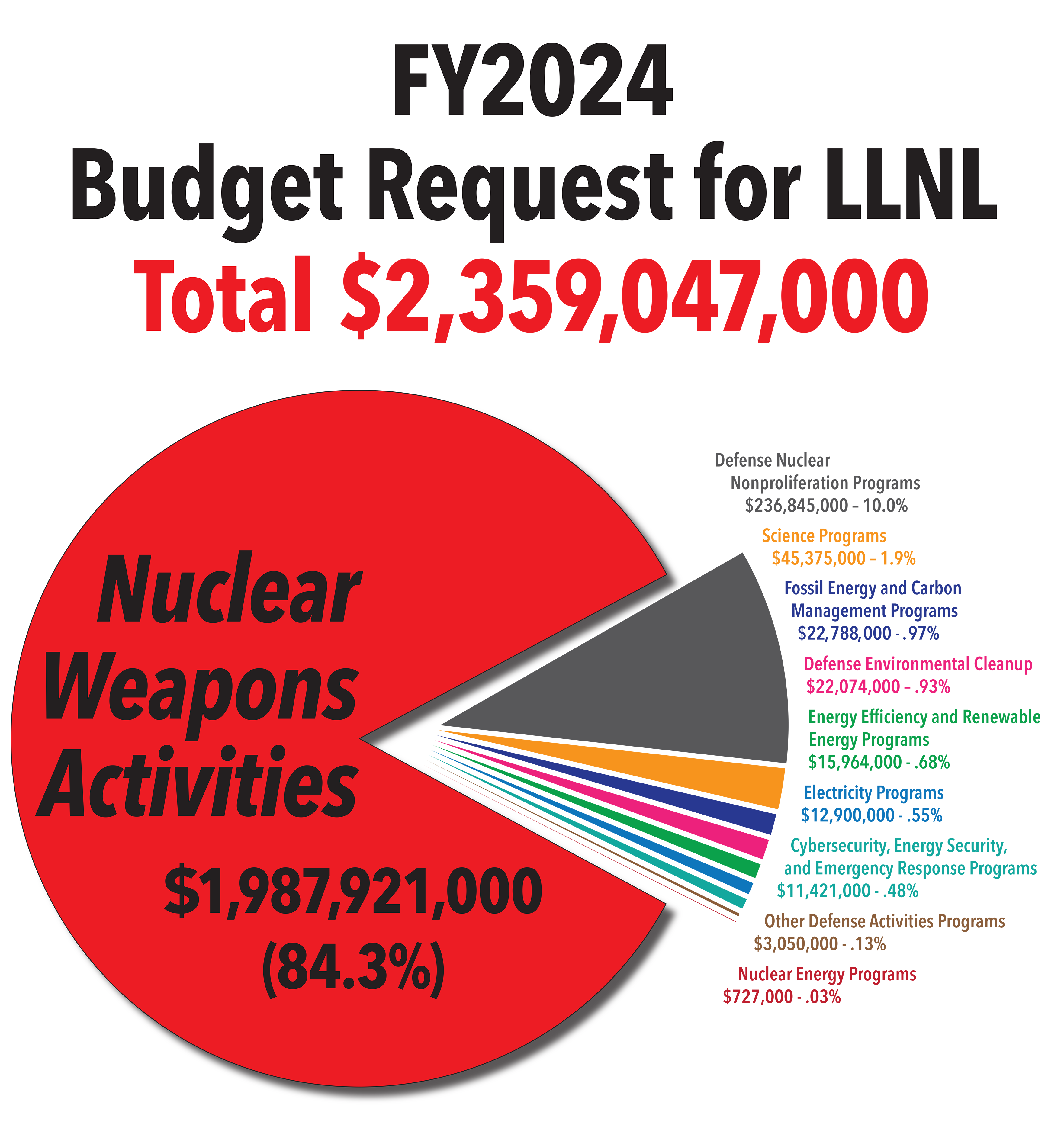 On the morning of Friday, August 4th, as thousands of employees drove past on their way into Lawrence Livermore National Laboratory…
read more
Press Releases
June 7th, 2013 – Tri-Valley CAREs Files Federal Lawsuit to Compel Release of Information About Nuclear Weapons Activities at Livermore Lab

April 11th, 2013 – Tri-Valley CAREs Team Heads to Washington to Cut Spending on Nuclear Weapons Programs; Restore Needed Funds for Radioactive Waste Cleanup and Securing Nuclear Materials

April 10th, 2013 – From Tri-Valley CAREs, Livermore, CA for Reporters and the Public: Our Initial Response to the Fiscal Year 2014 Budget Request for Nuclear Weapons

April 8th, 2013 – Questions For the April 10 U.S. Department of Energy (DOE) FY 2014 Nuclear Weapons and Cleanup Budget Rollout

June 6th, 2012 – Key Congressional Appropriations Amendment Passage Supports Needed Nonproliferation Program Over Troubled Plutonium Fuel (MOX) Scheme

March 15th, 2012 – Livermore Nuclear Watchdogs Head to Washington, DC to Challenge Nuclear Weapons Projects That Put the Environment and Taxpayer Dollars at Risk

July 13th, 2010 – Document Reveals that DOE's Internal Nuclear Weapons Plans Significantly Differ From the Agency's Public Pronouncements

March 26th, 2010 – Groups in Communities with Nuclear Weapons Facilities Applaud New Arms Reduction Treaty

May 28th, 2009 – National Ignition Facility Ceremony Masks Serious Technical, Scientific, Environmental and Nuclear Weapons Policy Questions

April 8th, 2009 – Transforming the U.S. Strategic Posture and Weapons Complex For Transition to a Nuclear Weapons-Free World

April 6th, 2009 – Press Advisory: Transforming the U.S. Strategic Posture and Weapons Complex For Transition to a Nuclear Weapons-Free World

December 19th, 2008 – Energy Dept. Issues Decisions Today To Build New Nuclear Bomb Plants, Endanger Communities

October 23rd, 2008 – Energy Dept. Brushes Aside Record 100,000+ Public Comments, Releases Final Plan for Dangerous, Costly New Nuclear Bomb Plants

March 17th, 2008 – Residents, Peace, Religious, Environmental Organizations Protest Plans for New U.S. Nuclear Weapons "Bombplex"

March 14th, 2008 – Public Hearings in Livermore and Tracy on Energy Dept. Plan to Build New Nukes, to Be Held on 5th Anniversary of Iraq War

October 2nd, 2007 – Community to Confront "Complex Transformation" and New Nuclear Weapons at Livermore Lab

December 11th, 2006 – Local Residents, Public Interest Organizations, Scientists, Workers Decry Plans for New U.S. Nuclear Weapons "Bombplex"

December 8th, 2006 – Public Hearings In Livermore And Tracy, Ca On Energy Dept. Plan To Build New Nukes

November 29th, 2006 – Independent Review of Department of Energy Study Undermines "Need" for New Nuclear Weapons
---