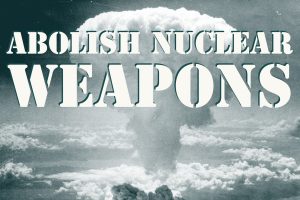 We invite you to mark the U.S. atomic bombings of Hiroshima and Nagasaki with Tri-Valley CAREs and other peace and justice groups that are part of the Livermore Conversion Project.
Our 2023 event features a vigil at the Livermore Lab West Gate and a film tribute to our dear friend, former Pentagon planner, whistleblower, and fellow nuclear abolitionist, Daniel Ellsberg.
We will gather at 9 AM on Friday, August 4 at the Livermore Lab West Gate, located in Livermore on Vasco Road (turn on Daphne Dr. to park). The theme this year is "Dismantle the Doomsday Machine: Abolish Nuclear Weapons at Livermore Lab & Globally".
We are planning a simple and solemn program this year. At 9 AM, Patricia Ellsberg will say a few words about Dan's life, his passing, and what protesting at these very gates meant to Dan and to her over the years.
We will then begin a silent vigil; speaking truth to Lab employees entering the gates with large banners and signs. Bring your favorite nuclear disarmament banner. And, we will have extra "Nuclear Weapons are Illegal" and other banners to share with you if you prefer.
Please wear black and/or white clothing if you can to honor the victims of the US. atomic bombings of Hiroshima and Nagasaki. These are the traditional mourning colors in Japanese culture.
At 9:30 AM, a film featuring excerpts from six of Daniel Ellsberg's many talks at the Livermore Lab August rallies over the years will debut. We will have a monitor and equipment on site so that we can watch it together as a community.
Can't come to Livermore Lab on August 4? In that case, we invite you to watch the film in your home or with a group of friends or family. It will go live at 9:30 AM on August 4, and you can watch it at the same time as those of us gathered at the Livermore Lab. You can also watch it at a later time or date. The film is 90 minutes.
Use this link: https://enlightenedfilms.com/ellsbergrallytalks/
Or use the QR Code on the flyer below