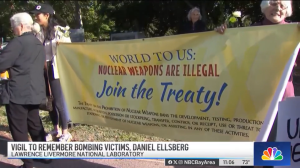 Members of Tri-Valley CAREs and other peace advocates held a silent vigil Friday morning at Lawrence Livermore National Laboratory to remember the victims and mark 78 years since the atomic bombings in Japan.
The group also paid tribute to one of the more notable opponents of nuclear weapons and a famous whistleblower, Daniel Ellsberg, who died at his Kensington home in June at age 93.
Ginger Conejero Saab has the full story HERE!
By Ginger Conejero